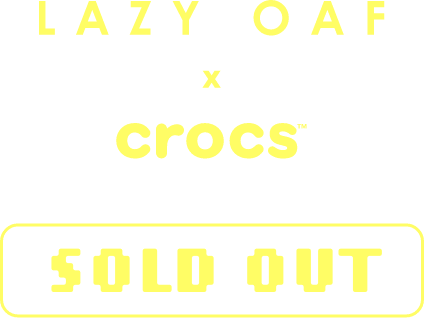 Lazy Oaf x Crocs
Classic Clog
You're a mean green clog wearing machine. These are what would happen if you dipped your classic croc clog in a vat of Lazy Oaf's toxic waste weirdness. These radioactive bears come from a slime green planet where they pass their days sitting in swamps and talking about forming a union.
Lazy Oaf x Crocs
Mega Crush Clog
We're crashing into a new dimension with the Mega Crush Clog. With a pastel gradient that looks like the portal to a new world, giant genuine fake diamond flower Jibbitz™ and a metallic midsole that works like a go faster stripe…this shape is for those who want to put their Crocs into four-wheel drive and go exploring extraterrestrial terrains. Just watch out for potholes.
Lazy Oaf x Crocs
Classic Lined Clog
Meet our very own Croczilla. Inspired by those huge clomping creatures that take over towns in doomsday movies, these fleece lined clogs feature Terry the three-eyed Teddy. Don't trust his cute appearance, Terry has an agenda - one of world domination and eating packets of crisps. But don't fret, he can keep your feet cosy whilst he does both of those things.